Public Opinion Polling
Main Content
The Paul Simon Institute's public opinion polls address Illinois voters' opinions on important current public policy topics, typically with a focus on state budget issues, political and electoral reform, politics, and social issues. 
The Simon Poll™ of registered voters in Illinois has been conducted since 2008. In addition to helping chart public opinion for policymakers, graduate students also use the polling to include questions useful to them in their papers, dissertations, and research projects.
A range of public policy issues is present in the collection. Issues include primary and general elections, potential political reforms, political polarization, immigration, elected officials' approval ratings, public disclosure and corruption, Illinois budget and pensions, guns and society, and social issues, such as abortion, marriage rights, and medical marijuana. Standard demographic data are also included.

The results of these polls gained major media and public attention in the run-up to the primaries and continue today to receive attention and constitute a significant part of the public dialogue and help set the agenda in Illinois.
SIMON POLL
Want to know more? Check out the poll results from recent years.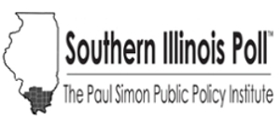 The Southern Illinois Poll
American Association for Public Opinion Research's (AAPOR) Transparency Initiative 
The American Association for Public Opinion Research's (AAPOR) Transparency Initiative recognizes the Paul Simon Public Policy Institute as a member.
Membership in the Initiative signals the highest level of disclosure and professional ethics in our Simon PollTM.
We are pleased to join AAPOR in working toward the goal of an open science of survey research.
Learn more about the Transparency Initiative at www.aapor.org/transparency.aspx.  
For Students
Every year the Institute's statewide Simon PollTM interviews 1,000 registered voters statewide, including questions on electoral politics, public policy, and political reform. 
We have included questions from SIU graduate or undergraduate students in most of our polls, which has helped to provide the data for research projects, master's theses and doctoral dissertations.
The Simon PollTM has so far helped students in political science, sociology, geography, and journalism, but the opportunity is open to students in any discipline that includes public opinion in its areas of study.

To learn more, contact Dr. John Jackson at jsjacjson@siu.edu.