20th Anniversary Paul Simon Poster
Main Content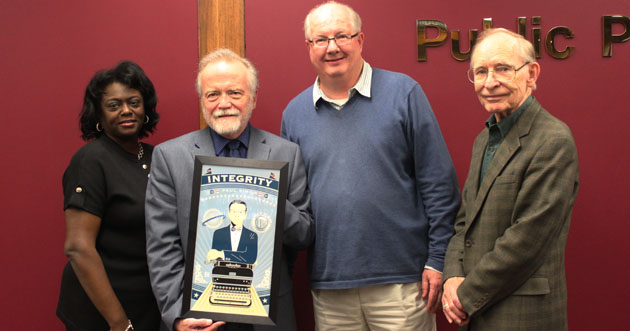 Rex Parker's "Integrity" Poster Celebrates 20th Anniversary of Paul Simon Public Policy Institute
Carbondale, Illinois USA — Southern Illinois University Carbondale's Paul Simon Public Policy Institute has announced the recent acquisition of Rex Parker's Paul Simon "Integrity" Poster.
The Paul Simon "Integrity" Poster depicts a resolute Paul Simon behind his trusted Royal typewriter, with his signature bow tie and beaming smile. In celebration of the 20th anniversary of the Paul Simon Public Policy Institute, other visual elements in the poster highlight the Senator's passion for journalism, foreign policy and politics.
"We are delighted that Rex Parker has created this wonderful tribute to Paul Simon's memory in time for the 20th anniversary of the Paul Simon Public Policy Institute.  It will displayed in a place of honor here at the Institute for the enjoyment and education of our many visitors," said Interim Director Jak Tichenor. 
"In 2002 I finally got to meet Paul Simon, while organizing a breakfast event in my current town of Park Ridge, where he was the special guest of honor. Retired from politics, Mr. Simon still drew a bipartisan, overflowing crowd. The elder statesman shook every hand, took all the selfies and delivered a great speech," said Parker. "It was so inspiring I decided to run for city council. I won the race and got the chance to improve people's lives through public service."
"I humbly hope the "Integrity" Poster captures Paul Simon's boundless energy for life and is an inspiration for a new generation of public service," added Parker.
---
About Artist Rex Parker
Rex Parker is an American artist, designer and illustrator based at his award-winning design firm in the Chicago suburb of Park Ridge, Illinois. His graphically bold, icon-infused artworks include the "Games On!" poster series for Chicago's Olympic bid, the mid-century road trip "Route 66 Rocks" poster series, and the dynamic, Deco-inspired poster series for the Park Ridge Civic Orchestra. Rex's work is on display at number of Museums and Libraries across the United States including the William Morris Society Museum at Kelmscott House in London, England. To learn more about the artist and view his works, visit rexparkerdesign.com or contact rex@rexparkerdesign.com.