Edwin D. Phillips Debate Team Scholarship
Main Content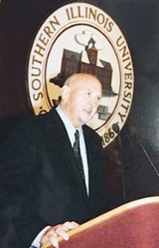 Speech Communication was always important to Ed Phillips, especially when it involved leadership.
While attending Central Michigan University, Ed was on the debate team and received National Honors in both debate and speech. In 1959, he was honored in "Who's Who Among Students in American Colleges and Universities." Central still has a jazz radio show that Ed started while he was there.
Prior to his time at SIU, where Ed earned his Ph.D. in Speech Communication and then taught Airline Management, Ed had a long career in the U.S. Navy, retiring after 22 years and attaining the rank of captain. Ed was a diver in the Navy Explosive Ordnance Disposal program. He left active duty and was hired by United Airlines in 1966. Ed worked for 29 years in management, first in flight and then as head of facilities for their corporate headquarters.
In 1995/96, while working on his master's degree in Speech Communication, Ed was one of the assistant coaches for the SIU Debate Team. His 2000 dissertation was titled Defining Leadership Communication. The Edwin D. Phillips Debate Team Scholarship was established to honor SIU Carbondale's championship debate team.
Eligibility
Applicants must be enrolled at SIU Carbondale and in good academic standing. Students must also be active members of the SIU Carbondale Debate Team during the period of the scholarship reward. Preference is given to a student interested in a career in public service, public policy, politics, diplomacy, or related fields.
Details
The scholarship award will be credited to the student's SIU Bursar account for use toward tuition and student fees.
To learn more about this scholarship opportunity, please contact Dr. Todd Graham, Director of Debate, at tgraham@siu.edu.