Institute Director John Shaw
Main Content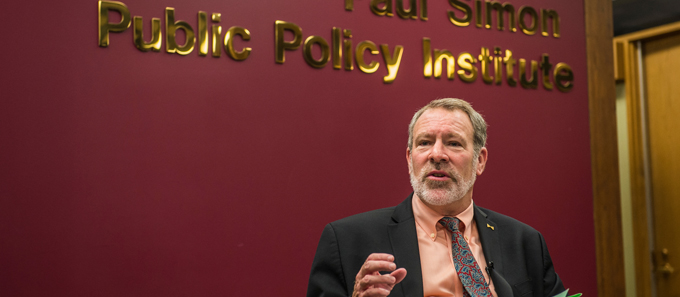 John T. Shaw was born and raised in Peoria, Illinois, the second oldest of six children. He received his bachelor's degree in Political Science from Knox College in Galesburg, Illinois and his master's in History from the University of New South Wales in Sydney, Australia. He began his career working for the Governor of Illinois then participated in a training program with the European Union in Brussels before segueing to journalism with a position at the Wall Street Journal Europe. Shaw joined the Paul Simon Public Policy Institute in January 2018 as institute director.
He lived in Washington, DC for more than twenty years, covering Congress for Market News International, a global financial wire service. As a contributing writer for the Washington Diplomat, a monthly magazine that reports on the diplomatic community, he has interviewed dozens of lawmakers and diplomats and has written more than one hundred profiles and book reviews.
In addition to JFK in the Senate, he is the author of three previous books. Washington Diplomacy (2002) profiles more than five dozen diplomats, legislators, and policy analysts. The Ambassador: Inside the Life of a Working Diplomat (2006) describes the diplomacy of Jan Eliasson who served as Sweden's ambassador to the United States. Richard G. Lugar, Statesman of the Senate (2012) examines the legislative acumen of Richard Lugar of Indiana and shows how a senator can affect American foreign policy. Rising Star, Setting Sun: Dwight D. Eisenhower, John F. Kennedy, and the Presidential Transition that Changed America (2018) is a riveting history that explores the complicated, poignant, and consequential transition of power from Dwight D. Eisenhower to John F. Kennedy.
John has been a guest on the PBS NewsHour and C-SPAN, had a weekly segment on Congress for KPCC public radio in Los Angeles for many years, and has been a media fellow at the Hoover Institution at Stanford University. He and his wife now reside in Carbondale, IL.
CONTACT JOHN T. SHAW
John T. Shaw
Institute Director

Paul Simon Public Policy Institute
Southern Illinois University
1231 Lincoln Drive
Mailcode 4429
Carbondale, IL 62901-4204

618-453-4009
john.shaw@siu.edu