Jeanne Hurley Simon
Main Content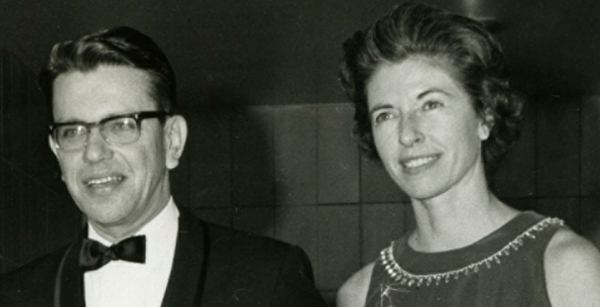 Jeanne Hurley Simon - Co-Founder of the Institute and Wife of Paul Simon (1922-2000)
Jeanne Hurley Simon was born in 1922 in Chicago to Ira W. Hurley and Margaret Reilly Hurley. She was a product of an Irish-Catholic family and like most Chicago natives of that era, she was born into the Democratic Party of Franklin D. Roosevelt. Her father, who was an attorney, was a strong Democrat and active in Democratic Party politics in the City of Chicago during the Richard J. Daley era.

She attended Barat College in suburban Lake Forest and then law school at Northwestern University. After receiving the J. D. degree she worked as an attorney for the Northern Trust Company and for the Wage Stabilization Board. She was an Assistant State's Attorney for Cook County from 1953-1956. In 1956 she was elected to the Illinois General Assembly as a State Representative from Illinois' Seventh District on the near north side. It was during service in the General Assembly that she met Paul Simon a Representative from Downstate Troy in Madison County. Paul and Jeanne were married on April 21, 1960, and took their first trip together to Washington, D.C. They often joked about having devoted their "second honeymoon" trip in July 1960 to attend the Democratic National Convention in Los Angeles where John F. Kennedy was nominated to be president.

Jeanne left her position as an Illinois State Representative when she married Paul; however, she was deeply engaged in public service throughout her life. She was an avid proponent for issues she believed in and often assisted Paul in all of his campaigns. Indeed, friends often observed that she was an astute political strategist and a formidable campaigner. Jeanne's policy advocacy often focused on libraries, which were a particular interest of hers, and she helped to bring the first public library to Troy, Illinois.

Jeanne and Paul had two children, daughter, Sheila, born in 1961 and son, Martin, who was born in 1964. Jeanne was devoted to these children and their education and development. From an early age, they both joined their parents on the campaign trail where Paul Simon's quest for office was very much a family affair.

Together Jeanne and Paul saw his political career prosper as he advanced from four terms in the Illinois House (1954-1961) to two terms in the Illinois Senate (1962-1968), then to the position of Lt. Governor in 1969-1972, and then to the U.S. Congress in 1974. After five terms in the U.S. House, Paul was elected to the U.S. Senate in 1984 where he served two terms from 1985-1996.

When Paul Simon decided to leave the U.S. Senate in 1996 and come to Southern Illinois University as the founder and first director of the Public Policy Institute, which bears his name, he was joined by Jeanne, who was a full partner in that decision as she had been throughout their lives together.

At the time of the Simons returning to Carbondale, Jeanne held a presidential appointment from Bill Clinton as Chair of the National Commission on Libraries and Information Science. This appointment required her to be an advocate for the nation's libraries and in that position, she worked from an office in the Institute and traveled to libraries and meetings throughout the United States. She held that position until her death in February of 2000.