Mission Statement & History
Main Content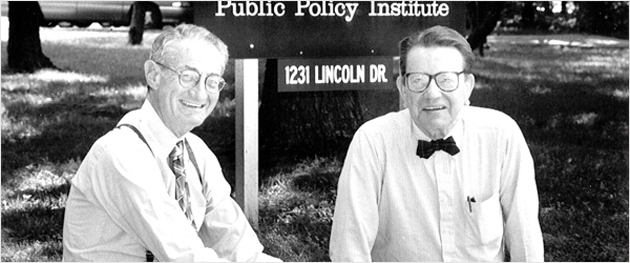 MISSION STATEMENT
The Paul Simon Public Policy Institute at Southern Illinois University Carbondale acts on significant and controversial issues impacting the region, the state, the nation, and the world.
It is committed to developing and working to implement approaches that could bring concrete, positive results in tackling some of the most difficult challenges in the public policy arena.
The institute focuses its efforts on fostering:
Ethical conduct in government
Opportunity and fair treatment for people in America and throughout the world
Promoting responsible citizenship for all Americans 

– 

but particularly for young Americans
HISTORY
Famous for wearing bowties and horn-rimmed glasses, Paul Simon was a two-term U.S. Senator from Illinois (1985-1997), and a candidate for the Democratic Party nomination for the 1988 United States presidential election. After leaving public office, Paul Simon was passionate about creating a place to research and provide constructive public policy resources, encourage others to take part in the conversations on the issues of our time, and support the next generation of public leaders.
In 1997, Simon decided to go back to his roots of southern Illinois and establish the then-named Public Policy Institute at Southern Illinois University in Carbondale. After his passing in 2003, the Institute was renamed the Paul Simon Public Policy Institute to honor Simon's legacy.
The Paul Simon Public Policy Institute is a non-partisan, non-profit organization focused on making a lasting difference in society by addressing pressing issues of society at the time. The Institute does this through a number of research initiatives, bringing in experts and leaders to the Institute to offer free lectures to students and the community, and providing opportunities for students to learn about public policy first hand through internships across the state.